Party Buses for any occasion.
Here is the perfect way to make a grand entrance and be the night star for that special occasion you are planning! From the beginning to the end, be remembered for going big thanks to one of our limo service Chattanooga party buses in which you and your friends will feel like all the lights are on you. No matter what itinerary you have, we will align with it for the most affordable prices in the market. Just acquire our limo rental services, and from that point on, we will take care of the rest so that everything goes as planned and you can relish the best services of party bus rental. Chattanooga limousines services are perfect for a Bachelor party, a Bachelorette party, a Prom Night, a homecoming party, an engagement, a birthday party, a concert, a sporting event, bar hopping around Chattanooga, TN, airport transportation, corporate transportation, or a wedding limo service, you just tell us about your destination and the hour you have to be there, and we will drop you off in a luxury stretch limo bus at your destination right on time. We prioritize giving larger groups of people the highest-level limousine service and safe transportation in the Chattanooga area, making you feel like you are on a cruise partying without anything to worry about. That's why our professional chauffeurs have been cautiously chosen to make the ride a pleasant experience. Plus, all our stretch limos party buses are equipped with a bunch of features that will create an ambiance of luxury transportation where you can do as you please while having a blast with your friends and listening to your favorite music. Our limo service Chattanooga party bus fleet of luxury vehicles is mainly compound of two different party buses, one that has a capacity for 25 people, a plush leather interior with a spacious bar area, and fantastic lighting effects. The other limousine rentals option of party buses has a maximum capacity of 35 people and has many other features, such as a state-of-the-art sound system, color-changing lights, custom black leather interior, exotic hardwood flooring, two televisions, built-in coolers, mirrored ceiling, and dark tinted windows. Depending on what you are looking for, you can choose the most suitable option between our Chattanooga limo service, and from that moment on, we will arrange all the details regarding your transportation needs. Call us, and we will be glad to respond to any questions you may have if you are interested in renting the top party bus company in Chattanooga, Tennessee.
Nightlife on a Party Bus Chattanooga, TN.
Chattanooga, the Scenic City, has many attractions, like the Lookout Mountain, the Tennessee Aquarium, and other kinds of places where you can have fun and spend the night on the town with friends just partying around and enjoying a deluxe Chattanooga party bus service. Of course, as everyone is looking for something that likes, there is a plan for every type of person. For those who want to party, there is a perfect area where you can go. Also known as downtown Chattanooga Choo Choo, in this place, you can find beautiful scenery, entertainment venues, live music shows, dining restaurants, and drinking bars with plenty of dancing. Those who love liquor beverages will have a blast in Chattanooga, TN, especially if you get a party bus rental service, due to the possibility of doing bar hopping that will make it easy to visit the most exclusive bars in town. With our Chattanooga limo service, you won't have to worry about needing a designated driver because professional chauffeurs will carry you safely. For example, there is the Chattanooga Whiskey Experimental Distillery, where you can take a tour inside the distillery, getting to know the process of whiskey-making and tasting one-of-a-kind whiskeys crafted there that can't be found anywhere else. Besides this, there is plenty of other places where you can have unique drinks, depending on what you want, and that could be from breweries, such as the Chattanooga Brewing Co., which offers exclusive beer prints, to a diversity of wineries that you can visit thanks to the wine tours. On the other hand, if your thing is stand-up comedy shows, you can also have fun here because, in some local bars like the Comedy Catch at the Choo Choo or the Improv Chattanooga, there are all kinds of hilarious spectacles that will make you laugh like never before. You can be sure that whatever you finally decide amongst the vast catalog of options our town offers, you will have such a memorable time thanks to the possibility offered by our limousine rentals services of celebrating everywhere on the best luxurious vehicles in town.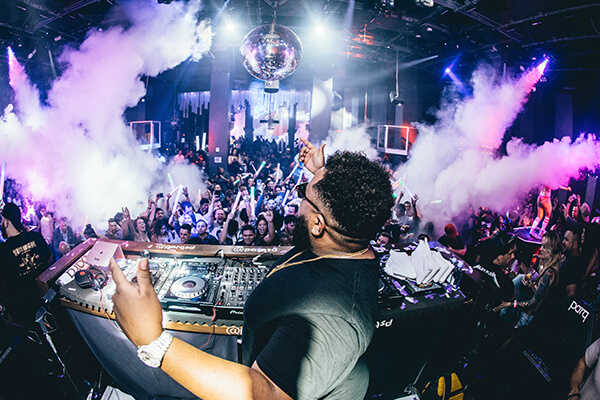 For elegant party bus limo service, choose us.
Our party bus Chattanooga, TN, is waiting for you to take over the town and have a great time while also enjoying the trip, thanks to the unbeatable prices of the reliable transportation that our party bus rentals services have to offer. When renting our passenger party bus Chattanooga limo service, we will help you make something marvelous out of special occasions like birthday parties, homecoming parties, Bachelor parties, Bachelorette parties, concerts, corporate events, or for wedding transportation and even for being received on an out-of-the-ordinary way at Chattanooga airport; we can give you one of the limo buses to be like the shuttle buses that will provide you with an airport transfers service. Count on us for prime, cheap, party bus rentals services in the Chattanooga area. We guarantee you will be the center of attention during your important event because everyone will be amazed by the enormous party bus and luxury transportation you have got. From the moment you get on the party bus until you arrive at your destination, you can host a mini party and initiate the celebration side by side with your closest friends. With us, you will get the finest group transportation services in Chattanooga, Tennessee, and the surrounding area because, in addition to luxury party bus service, we also offer Hummer limo rentals, charter buses, and shuttle services. On top of this, when you acquire our Chattanooga party bus rental service, you will live with all the intensity of what it means to experience the best limo service in Chattanooga, TN. Our team of professional limo buses chauffeurs will be there for any concerns or changes of plans, and they will treat you like the VIP you are.
For your next event, call us anytime for a free quote on a Chattanooga party bus rental. Our team is available 24/7 for you!